One of the steps in growing your site is starting an email list. This email list building guide will teach you how.
After you have some content and starting to get a bit of traffic, you'll want to stay in touch with your visitors and keep them coming back. Why? Because they may not have been ready to buy what you're selling on their first visit. Or maybe you need to build some trust with them.
A regular email from you helps you introduce more information, more products, or offers to your visitors. Return visitors are much more likely to buy from you than first time visitors. The best way to do this is through an email autoresponder service. I'll go over some options you have and how to get started.
Getting Started – Overview
Basically you can set up a form on your site as I have here, which sends the users' information to your email list service. You could also just put a link on your pages and set up a landing page for visitors to sign up. Most of the email services have this option.
The email list services providers have forms for you to design a look that fits your site's style and color scheme. Then you can just paste the code for the form wherever you want it to appear. I like putting mine in a widget in the sidebar.
You could actually have multiple lists from one site, depending on what the visitor is interested in. One for product info, one for information, one for updates to your site. You could also have a free ebook or guide as an incentive to sign up for the list. But for now, we'll keep things simple. You want to spend more time creating articles than sending email.
Many of the autoresponder services offer true autoresponder options. You set up a series of emails to go to a subscriber at set intervals. Some of the services have some prewritten emails for specific purposes that you can customize for your site and style. AWeber has some campaign templates for things like a welcome series, lead magnet, a 3-message blogger campaign, and a mini-course template. Many of the services have similar services.
It's getting exciting, right? Let's get into more specifics.
The Process
If you're just starting out, you'll want to consider how often you want to send updates to your list. You might base it on how often you publish new articles. I think a good rule of thumb is weekly for updates about new articles and information.
While you're starting to build your list or before you have any subscribers, you can start creating drafts that you can use later, once your list is getting populated. But it's good to have a plan so you can schedule this task in your to do list.
For updates, I like to write like I'm talking to a friend. Because they are your fans. They want to know what you have to say. Make sure to add something of value in your emails, even if it's just food for thought.
If you're going to be heavy on product or service sales, like a shop or as a coach, you might create a sales funnel (or drip marketing) email chain. AWeber has a great template for that. It automatically sends a new email, in a particular order, when a person signs up for more information on a product or service. The beautiful part is you only have to create the messages once, and the service sends them out automatically at the frequency you determine.
On that note, make sure to use a double optin mailing list service. You don't ever want to be accused of spamming unwanted emails. Double optin let's the visitor confirm their interest in receiving emails and also double checks that their email address is valid. If they don't confirm, they aren't added to the active list.
You can classify your subscribers into categories, based on their behavior. If they click through a link in an email to your site, if they click on a certain link. Or if they didn't even open the email. You can then start customizing emails for each category.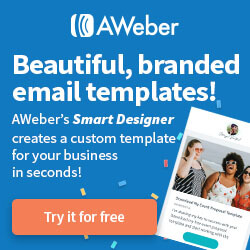 Email Marketing Companies
Some popular email marketing companies:
1. AWeber – Email service provider, basic account. $19.00 per month for up to 1,000 subscribers. I recommend AWeber. They have full services, a WYSIWYG message creator, lots of free images you can use and a great stats interface. And, you get what you pay for with email marketing companies.
2. Getresponse – Email service provider, basic account. $15.00 per month for up to 1,000 subscribers.
3. Mailchimp – Email service provider, basic account. Free with no technical support. Next tier is $9.99 per month with ability to add logo and 24/7 support.
4. Convertkit – Email service provider, basic account. Free is available. For more features, including broadcasts and support, $29.00 per month for up to 1,000 subscribers.
For paid accounts with these providers, you get a free trial period to see how you like it. There are others, but these can get you started.
I started with Convertkit and it's a good company but the $29.00 each and every month became a hardship before I was earning from my site. I'm currently using AWeber and very happy with it.
Stats
Most email providers give you reports so you know how effective your campaigns are. How many opens, how many click through's, and then how many purchases. Some affiliate programs allow you to send product links in emails. Make sure you double check with your affiliate programs before including product links in your campaigns. Many do not allow it.
But you'll start to notice trends in your numbers and see what's working and what isn't. These are awesome tools to refine your campaigns and learn from your readers what they want.
Go Ahead and Get Started
Once you are getting visitors to your site, you'll want to stay in contact with them and get them to visit again and again. If they weren't ready to purchase something on their first visit, they might after more exposure to your brand and messages. It kind of feels like you're sending messages to friends when you're sending messages to people who want to hear from you.
I hope you find success with your email marketing campaign. If you have any questions or comments, please leave them in the Comments section below. Or email me directly at help@pursuemypassion.com.
Thanks for reading today!
Paula